New Mercurial logo design
This logo is a simple "liquid mercury" theme like the original logo, in keeping with the ideas that inspired the name: fast, fluid, flexible, etc. It scales nicely to all sizes, including 16x16 for favicons, prints well, and generally makes the lead Mercurial developer happy.
Licensing: this logo is available under the GPLv2+ and is freely available for use by all projects with a GPLv2 license (though please use it only for Mercurial-related projects). We will grant explicit use permissions to non-GPLv2+ projects on a case-by-case basis, please write to mpm at selenic.com for details.
Original design: Cali Mastny
Various fiddling: Matt Mackall
Copyright: Matt Mackall
Source: logo-droplets.svg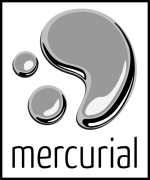 A variant version that adds the "periodic table" theme of our command line tool: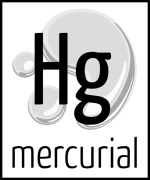 Source: logo-hg.svg
And here are the droplets themselves, which will be useful in contexts calling for just an icon: